Bike Tours Through The Dolomites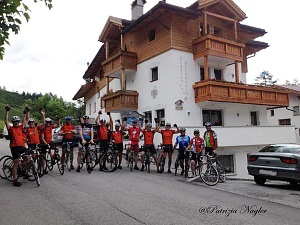 If you want to ride a mountain bike, e-bike or racing bike through the Dolomites, you are in the right place in Alta Badia.
The location is central, the mountain scenery is breathtaking and the selection of bike tours through the Dolomites is gigantic. This is a real experience for every cyclist.


Dolomites Bike Day
Also this year the Dolomites Bike Day will be organized with the well-known Sella Ronda Bike Day, which will make the hearts of all cyclists beat faster in the truest sense of the word.
Many famous passes in the Dolomites such as the Falzarego Pass will be closed to road traffic on June 16, 2019 from 9:00 a.m. to 3:00 p.m., so that you can enjoy the landscape, nature and the fresh air of speed to the fullest.
This event is accessible to everyone free of charge and without competition.
E-Bike Touren
An e-bike tour is the best way to explore our mountain and forest landscapes without having to make too much effort.
From June to September you can rent the latest e-bikes at various rental points all over Alta Badia and bring them back where it is more convenient for you.

Here you can find suggestions for e-bike tours and e-bike sharing prices:
Downhill
For the more demanding mountain bikers we have a freeride route. There are even two courses with different levels of difficulty to choose from at Gardenaccia in La Villa.
The chair lift brings you and your MTB up to 1,750m and you can then go down.
There are also the "Bike Beats" - Alta Badia Trails. You are on the Piz Sorega plateau in San Cassiano. These three routes also have different levels of difficulty.